Aberdeen's City Garden Project: New vote date being considered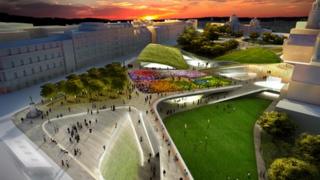 Other dates for a crucial vote on the future of Aberdeen's Union Terrace Gardens are being considered, the city council leader has said.
Labour, which forms the largest part of the council coalition, vowed to abandon the £140m City Garden Project if it got into power in the May elections.
It brought a scheduled council meeting forward to 13 June so councillors could vote on the proposals.
But the SNP said some of its members could not attend on the new date.
Barney Crockett said Labour understood the concerns.
In favour
A final decision on when the meeting will take place is expected to be taken this week.
Businessman Sir Ian Wood has put £50m behind the Granite Web design.
A referendum earlier this year, in which residents were asked if they wanted to retain the gardens or back the City Garden Project redevelopment, delivered a narrow vote in favour of the plans.
More than 86,000 votes were cast online, by post and by phone.
There were 45,301 votes in favour of the project, with 41,175 people opposed to the plans.
Tax Incremental Financing (TIF) would see a £92m loan being paid back by increased income from business rates.
If it goes ahead, the project could be finished by 2017.