Shetland trawler catches 'biggest oyster'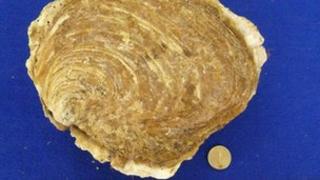 A Shetland trawler has caught what experts believe could be the largest oyster ever found in the UK.
The Fidelitas was trawling 27 miles off Bressay when it caught the shell, which measures 201mm across and weighed just over a kilogramme.
Skipper Mark Anderson brought it to the NAFC Marine Centre, which confirmed its record-breaking potential.
The previous UK record holder, reported in Cornwall in 2009, measured 178mm across and weighed about 1.3kg.
Dr Beth Leslie from the NAFC Marine Centre said: "Native oysters are relatively rare in Shetland waters and for one to be caught in a trawl is very unusual.
"This oyster was also found at around 120m, which is much deeper than would be expected for this species.
"Although it is not possible to accurately age the shell, it is possible that this individual could have been living for decades."
The largest oyster ever recorded was found in Chesapeake Bay in the US. It measured more than 300mm across.