Damage as high winds hit north east of Scotland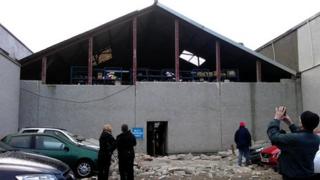 The high winds sweeping Scotland have caused serious damage in Aberdeen, Aberdeenshire and Moray.
Part of the main wall of a building collapsed in Aberdeen's Poynernook Road, damaging cars below.
Christmas lights came down in Aberdeen city centre, and there were also reports of chimney stacks coming down, and trees coming down in Aberdeenshire and Moray.
NorthLink cancelled their north and southbound overnight sailings between Shetland and Aberdeen.
And two customers at the cafe in Elgin library suffered minor injuries when a section of the suspended ceiling came down. The exact cause is not yet known.
Grampian Police warned conditions for travel in the area could be "hazardous", and urged extra caution.
The force said persistent rain with the possibility of snow, combined with winds gusting up to 80mph in the north east of Scotland - in particular the Moray, Banff and Buchan coasts - was likely to mean "atrocious conditions".
You can see regular updates on the BBC News live page, and find out more about school closures on our special page on the disruption in each council area.