Kristofer Barr jailed over friend's death in car crash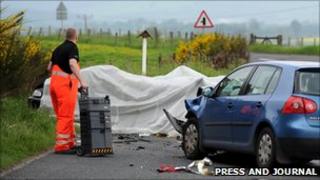 A man has been jailed for a year for causing the death of his best friend by careless driving.
Kristofer Barr, 24, of Aberdeen, was injured in the crash on the B993 Kemnay to Monymusk road in June 2010, but passenger Ian Buchanan died.
Mr Buchanan, also of Aberdeen, lost his life just two days before his 23rd birthday.
Barr, who previously admitted causing death by careless driving, was sentenced at Aberdeen Sheriff Court.
Mr Buchanan was the front seat passenger in the Honda Civic when it was involved in a collision with a Volkswagen Golf.
Barr and Mr Buchanan had been friends since attending Alford Academy together.
The court heard that drivers who pulled over to help found Ian lying dead in his friend's arms.
Barr's lawyer Douglas Russell said his client had been deeply affected by the death of his friend and urged the sheriff not to jail him due to his history of self-harming.
But Sheriff Annella Cowan said: "In my view I have no alternative but to impose a custodial sentence."
She added that courts sadly had to repeatedly send out the message, particularly to young drivers, that driving a car required "concentration, consideration and skill at all times".
Car modifications
Fiscal Elaine Ward told the court that police collision investigators calculated that Barr could have been driving at about 69mph (111km/h) when he crashed.
Mrs Ward said the 51-year-old driver of the on-coming car, Anne Harrison, could not avoid the collision.
She said: "The accused attempted to negotiate the bend and as he did so he lost control of the vehicle. The vehicle began to rotate, it was effectively sliding across the carriageway."
Modifications to raise the car's suspension, carried out by Barr days before the accident, could have affected the handling, the court heard.
Barr suffered life-threatening injuries in the crash, was placed in an induced coma for 80 days and had amnesia, leaving a three-year gap in his memory.
Defence lawyer Douglas Russell told the court Barr had been deeply affected by the loss of his friend and was still on speaking terms with Mr Buchanan's family.
Mr Russell said: "The deceased was the accused's best mate. The deceased died in the arms of the accused, albeit the accused was not fully conscious at the time. They had known each other since primary school and shared a flat together."
The lawyer said the road had been wet due to thundery conditions earlier in the day, which could have contributed to the collision.
Mr Russell added: "The accused has asked to give a sincere and profound apology to the family of the deceased."
Barr was also banned from driving for four years.