Diabetic dog Roxy finds home with diabetic twin girls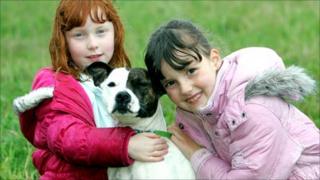 A diabetic dog has found a new home - with eight-year-old twin girls who have the same condition.
The Scottish SPCA was struggling to place Staffordshire bull terrier Roxy due to her daily insulin needs.
Catherine and Graham Hendry, from Ballater, Aberdeenshire, said the fact their daughters Louise and Katie also have type one diabetes made them want Roxy more.
The dog and girls now all have their injections together.
The Hendry family had spotted a newspaper appeal about Roxy and decided to visit her at the charity's animal rescue and rehoming centre at Drumoak, where she had been since July.
Mrs Hendry said: "We originally saw an appeal for Roxy in our local paper about six weeks ago but our staffy, Buzz, had recently passed away and we felt it was too soon.
"Then we saw another appeal a few weeks later and thought it must be fate. We decided to go and see her that day and just fell in love with her.
"The fact that Roxy is diabetic didn't put us off at all. If anything, it made us want her even more as our eight-year-old twin daughters, Louise and Katie, both have type one diabetes."
'Perfect family'
She added: "We brought her home at the weekend and she's already part of the family. Roxy and the twins take their injections together every morning and our son, Ross, just adores her.
"We're all so glad to have the lovely Roxy in our lives and think more people should give staffies a chance. They're absolutely fantastic dogs and it's a shame a lot of people can't see that."
Centre assistant manager Debbie Innes said: "Roxy is an absolutely lovely dog but it was difficult to find owners who would rehome a diabetic dog, particularly a staffy.
"We're all so happy she's found the perfect family to take care of her and we'll certainly miss her here at the centre."