Oxfam marks 'oldest' Aberdeen shop's 21st birthday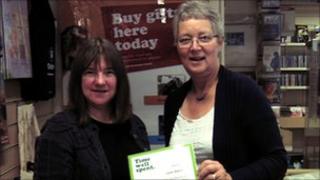 An Aberdeen Oxfam bookshop - the charity's oldest Scottish branch - is celebrating its 21st birthday by honouring two long-serving volunteers.
Janet Atkinson and Matthew Dickie have been with the Back Wynd shop for almost its entire history, at 20 years each.
Mrs Atkinson, 61, said: "I never thought of being a volunteer, but half an hour after dropping off some book donations I had become one."
Shop manager Marion Craigie said the staff had shown "humbling dedication".
The first Oxfam bookshop was opened in Oxford in 1987.