Aberdeen bypass hearing 'may not start until 2013'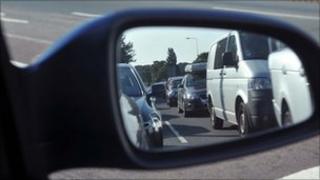 An appeal hearing into plans to build an Aberdeen bypass may not take place until 2013, the Scottish Courts Service has said.
Campaign group Road Sense has lodged a fresh legal bid to block the construction of the £400m road.
However, the campaigners may be forced to drop the action if they cannot have their legal costs capped.
The bypass was originally given the go-ahead by Scottish ministers in December 2009.
But the scheme to build the 28-mile Aberdeen Western Peripheral Route was severely delayed by proceedings at the Court of Session in Edinburgh.
Last month, the court rejected an appeal by campaigners against the route, ruling that Scottish ministers addressed all of the relevant requirements.
Road Sense said that judgement was flawed and has made new legal moves to block the construction,
Transport Minister Keith Brown said: "We are prepared and ready to challenge this appeal and look forward to getting the earliest possible opportunity to do this.
"However, I would appeal to the protesters who are now holding up this much-needed road not to force the public purse to incur the costs and delays to individuals and businesses that this would cause.
"We are considering every available legal avenue open to us to ensure the best possible outcome for this vital project for the prosperity of the north east."
An online petition against the Road Sense objection has attracted more than 13,000 signatures.
Many business leaders in the area support the project.
Opponents criticised the cost and environmental impact of the plan.