Flood-risk Huntly residents allowed home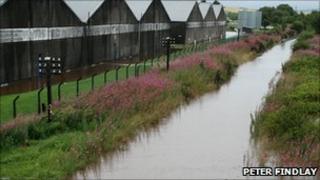 Residents forced to leave their homes in Aberdeenshire due to the risk of flooding from a swollen river have been allowed to return.
Earlier, Aberdeenshire Council began evacuating the Meadows area of Huntly as a precaution because the River Deveron was at risk of overflowing.
Volunteers from the Red Cross also moved 46 residents from The Meadows care home on Burnside Road.
The council said water levels had since dropped.
"It is hoped that levels will continue to drop over the next few days," a spokesman said.
The council had moved people from their homes in an attempt to "minimise disruption and damage".
The Scottish Environment Protection Agency (Sepa) issued a flood alert for Aberdeenshire and Aberdeen city, Findhorn, Nairn, Moray and Speyside.
There were particular concerns about Kintore, Turriff, and the Milltown and the Meadows areas of Huntly.
Flood warnings were also issued for Boat O' Brig to Spey Bay because of rising waters on the River Spey.
Residents of The Meadows care home were taken to other homes in the area and to the Jubilee Hospital.
'Prepared as possible'
Ian Rideout, Red Cross operations director for Northern Scotland, said: "We were called in to help as soon as the river showed signs of bursting its banks.
"Our volunteers, who are all highly trained, helped care home staff move residents to the Red Cross vehicles to be transferred to alternative temporary accommodation, including the local hospital."
The council had opened a rest centre at the Gordon Schools in Huntly for residents of the 50 properties affected the evacuation in the Meadows area.
Les Allan, Aberdeenshire Council area manager for Marr, said the council had wanted residents "to be as prepared as possible for any eventuality."
Water levels in local rivers and smaller watercourses rose after heavy and prolonged rainfall which affected much of the area over the past two days.
Trains delayed
A Sepa spokesman said: "At the moment, levels are not expected to be as high as those experienced in September 2009 however, levels are being continually monitored."
Grampian Police said the Strategic Co-ordinating Group (SGC) urged all households and businesses previously affected by flooding in heavy rains to take precautionary action.
Chief Inspector Colin Walker added: "We are working closely with our partners to monitor the situation and would encourage members of the public to be vigilant at this time."
Rail services between Inverness and Aberdeen were affected by localised flooding.
ScotRail's trains on the route were delayed by up to 50 minutes because of flooding at Elgin.