Plan to boost Aberdeen city centre backed in ballot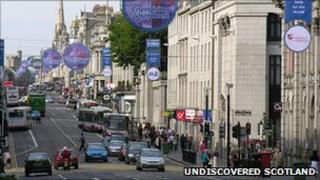 Proposals to establish a Business Improvement District (BID) in Aberdeen have been approved by city centre businesses.
A postal ballot of one vote per eligible business backed the creation of a BID.
The results showed 182 businesses backed the proposals, with 109 voting against.
The creation of a BID is intended to reinforce a partnership between the council and the business community.
The initiative is expected to raise about £3.5 million for projects over the BID's initial five-year lifespan, after which businesses will be balloted again to discover if a majority want it to carry on.
It is hoped it will deliver projects which benefit trade by boosting the promotion of the city centre, improving its services and enhancing its fabric and environment.
Eligible businesses within the BID footprint will pay a levy of 1% of their non-domestic rateable value annually.
Additional funding
The money will be collected by Aberdeen City Council and passed to the Aberdeen BID Development Co Ltd - which will plough the proceeds into special programmes and environmental improvements.
Projects will focus on promotion, cleansing and litter, public safety and CCTV, public toilets, signage, waste management, parking, transport, roads maintenance, events, festive lighting and street trading.
Enterprise, Planning and Infrastructure convener Councillor Kate Dean said: "By backing the creation of a BID essential additional funding for the city centre will be raised, which will enable the creation of a more vibrant, safe and attractive city centre."
Aberdeen BID Project Director David Halliday said: "Aberdeen businesses have voted to help make our city centre more vibrant, prosperous, safe and attractive by stimulating the city centre economy, improving how it looks and promoting it more effectively."