Tall ships arrive in Shetland as journey continues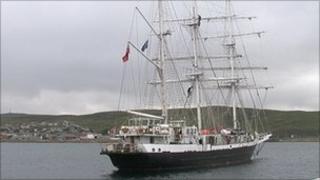 Most of the 56 strong fleet of tall ships have arrived at Lerwick as the culmination of their cruise in company from Greenock.
The vessels set sail from Greenock last week with many calling into smaller ports along the way.
Four days of celebrations are planned in Shetland to mark the occasion.
The second leg of the race proper gets underway on Sunday when the ships race to Stavanger in Norway.
The 500-mile route from the Clyde has seen ships calling into 12 small harbours including Ullapool, Stornoway and Fair Isle.
Ullapool harbour master Kevin Peach, who travelled to the Northern Isles to meet some local trainees, said businesses in the town had experienced the most profitable few days ever.
"Some of them in fact were wondering how they would manager later in the week at other fayres they have been booked into," he said.
"I did get an indication from the local bank that the autobank takings were up four times on a busy weekend and that they put out £110,000 for the two days so it was an an absolutely unbelievable event."
The 200 trainees who set sail from Greenock will now swap with another group of young people.
Having experienced the strong winds of the past week and the seas around Cape Wrath, many of them are pleased to finally be on terra firma.
Stephen Gorman, from Greenock, said: "The whole experience has actually been pretty good, it was fun.
"When we hit the heavy waves it was actually quite rough but when we got round about here this morning it was calm waves again so it was not bad."
Hotels, flights and ferry sailings have all been booked up for the Lerwick celebrations with many ex-pats expected home alongside the tourists.
'Fantastic time'
Fiona Dally, project manager for Tall Ships Lerick, said: "Shetland is a unique place with a strong community and everybody will come out and enjoy the events.
"While we can't get the same visitors numbers (as Greenock), those who do come to Shetland will be shown a fantastic time."
Local resident Jonny Wiseman agreed.
"I remember it in 1999 and it was absolutely fantastic," he said.
"Hopefully the weather will hold off, though it's not a good forecast, but Shetland optimism means it will be good."
The parade of sail will take place on Sunday when the ships will begin their race to Stavanger, Norway.