Burravoe and Uyeasound school closures called in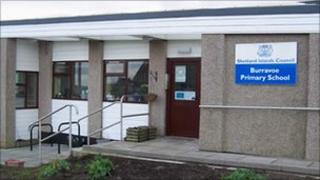 A council decision to close two Shetland primary schools has been called in by the Scottish government.
Shetland Islands Council decided in May to close the Burravoe and Uyeasound schools.
Ministers have written to the local authority to say the council "may not have paid sufficiently special regard to alternatives".
Betty Fullerton, chair of the council's education and families committee, said she hoped for swift decisions.
She said: "We will now wait and see what decisions they reach. It's effectively out of our hands as a council.
"For the sake of the pupils, teachers and parents at both Uyeasound and Burravoe, I trust the decisions won't take too long, as I know that this will be a very unsettling time."