South Uist woman knits Eriskay jumper for Pope Francis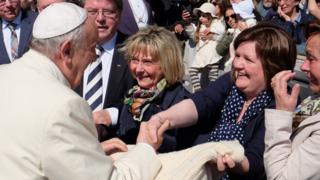 A woman's passion for traditional knitting techniques led her to hand-delivering one of her woollen creations to Pope Francis at the Vatican in Rome.
Marybell MacIntyre, from South Uist, learned the complex pattern for an Eriskay jumper from a group of older women in the Western Isles.
The style of jumper has been a garment of choice for generations of fishermen.
Inspired by her Catholic faith, Ms MacIntyre decided to knit a jumper for the Pope and deliver it personally.
Ms MacIntyre, a teacher, was never sure until the last minute that she was going to be able to meet the Pope.
She told BBC Radio's Good Morning Scotland programme how the idea to knit a jersey for the Pope came to her.
"To me it is a very special jumper," she said.
"It is an Eriskay jersey traditionally worn as workwear by fishermen. There is symbolism attached to it. Pope Francis is the fisher of men and there is symbolism attached to the Apostles, and also I really, really admire the Pope."
Ms MacIntyre said she revealed her "daft idea" to knit a jersey for the Pope, without knowing his measurements or whether he would accept it, to the woman teaching her to knit the Eriskay pattern.
She said: "Without missing a beat she said, 'Aw, he'll probably need a 44. He is quite broad'. And that comment made me think that maybe it was not such a mad idea."
Her story, including her journey to Rome at Easter this year, was documented in a film by MacTV film for BBC Alba.
The Pope's Eriskay Jumper was shown on Monday night and will be screened again on the Gaelic channel from 22:00.
After handing over the jersey, Ms MacIntyre told the film-makers: "It's like a dream.
"It's like something that's happening to someone else."