Barra lifeboat crew rescue grounded yacht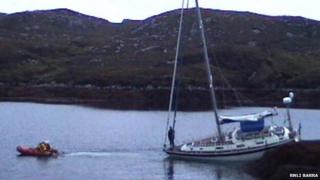 Barra lifeboat went to the aid of a yacht after it got into difficulty in Loch Skipport, South Uist, on Thursday.
The boat was grounded on a reef at the entrance to the sea loch. The two people onboard were uninjured.
In a 12-hour operation, the Barra lifeboat crew managed to free the yacht from the reef and tow it to Lochboisedale in South Uist.
The RNLI volunteers launched at 22:15 on Thursday and eventually succeeded in freeing the yacht at 03:45 on Friday.
The lifeboat crew used a small craft called a Y boat to pull the yacht from the reef.