Architect's idea to open up Cromarty's WW1 defence site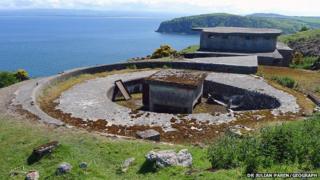 Crumbling clifftop ruins which were once major coastal defences in World War One could be brought back to life as a tourist attraction.
Perched on cliffs at the narrow entrance of the Cromarty Firth, the series of underground bunkers, tunnels, searchlight positions and gun emplacements were designed to protect the British fleet from enemy attack.
The deep, sheltered waters of the firth provided a perfect haven for the warships and a steel mesh boom was even stretched between the two headlands - known as the Sutors - to block any incursion by German U-boats.
Although some of the structures are in ruins, plenty of evidence of the complex remains, particularly on the South Sutor.
Now a landscape architect has drawn up imaginative plans which would see the site transformed as a visitor centre.
Ronan Watson, who grew up nearby on the Black Isle, was aware of the lookout posts and gun positions but was amazed by the extent of the base when he explored it a number of years ago.
"I was blown away by just the variety of structures that you find onsite and as I started to explore and look into it I realised that its history is just fascinating as well," he says.
"We learn so much about war from a European perspective and what happened in the trenches or what happened in Normandy but we really don't see or learn as much about what happened at our own front door."
Mr Watson, a 29 year-old Edinburgh University graduate, is currently displaying his futuristic vision for the site at an exhibition in Cromarty.
He accepts the proposals may be too ambitious. They would need millions of pounds of investment and would have to jump several hurdles in securing consent from a range of organisations and individuals.
But local Highland councillor and historian David Alston agrees that some public access could be developed to keep alive the memory of Cromarty's role as a key naval base in the two World Wars.
He says: "It was tremendously important during the First World War because you could get the whole of the fleet into the firth.
"And it brought tremendous prosperity to Cromarty. Ironically in 1919 the provost of Cromarty said Cromarty had just enjoyed the five most prosperous years in its history but fortunately wars come to an end.
"I think maybe 100 years on it's a national issue - what do we want to preserve?
"If we were looking across Scotland at what was worth preserving, certainly the fortifications in the Cromarty Firth would be right up among those that should be considered."
The defences did their job - there was no German attack on the British fleet's safe haven.
The only guns fired in anger were when a naval officer mistook what may have been a seal for a U-boat periscope and tried to bombard it.
The shells hit the village of Jemimaville, injuring a child.
For decades the villagers of Cromarty and the townsfolk of Invergordon on the opposite side of the firth were hugely proud of their naval connections.
The South Sutor was one of the military sites where experiments with radar were first attempted and one underground bunker in the complex was operational even during the Cold War period.
"I would love to see this place becoming more into the public domain," says Mr Watson.
"I'd love to see people having much more awareness of just what it on their doorstep."
And while time and nature may have to take its course some of the crumbling cliff top ruins, Mr Alston believes it may be possible to allow public access to some of the site which played such a key role in two world wars.
"I think something could be done and certainly we should make people more aware of what was happening there," he says.