'Precautions may have saved' Skye haulier John MacKinnon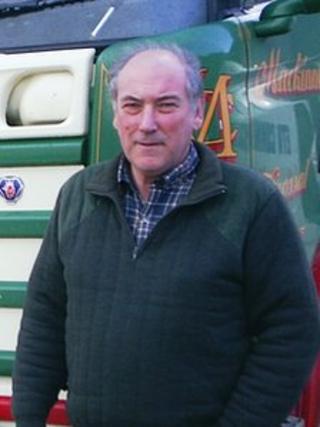 "Reasonable precautions" may have prevented the death of a haulage firm boss on Skye, a sheriff has said.
John MacKinnon, 65, was electrocuted after the crane he was driving struck high voltage transmission lines in December 2011.
In her determination following an inquiry, Sheriff Margaret Neilson said precautions included him not moving the vehicle with the jib extended.
Appropriate warnings of the lines would also have helped, she said.
The fatal accident inquiry (FAI) held last year heard that Mr MacKinnon, who ran Skye Transport, was doing contract forestry work for Munro Harvesting at Forestry Commission Scotland's Kyle Farm.
The inquiry heard that the experienced, highly regarded and safety conscious transport boss may have put himself in danger moving his newly-acquired crane to get a better mobile signal.
Mr MacKinnon was electrocuted while escaping from the burning vehicle.
In her determination, Sheriff Neilson said he may have forgotten that the jib was extended, or that there were cables overhead, or mistook the height of the jib and the power lines.
However, after the lines were struck, she said there was "absolutely nothing" that anyone coming across the scene of the accident could have done to save Mr MacKinnon's life without risking their own lives.
'Harrowing evidence'
The sheriff added: "At the end of the inquiry I extended my condolences to Mr MacKinnon's family, some of whom who sat through what must have been some difficult and harrowing evidence during the inquiry."
Safety poles, called goalposts, did not comply with rules, the inquiry had heard.
In her determination, the sheriff said there should have been goalposts with rigid crossbars and distinctive markings at appropriate places on the forestry track.
Another precaution would have been for Skye Transport to be provided with information on Kyle Farm, in particular a map showing locations of overhead power lines, prior to the work starting.
Sheriff Neilson said a meeting held before the job started had not involved the haulage company and was "not sufficiently robust" in terms of clarifying responsibilities for having adequate goalposts in place.
She recommended that a warning light should be fitted in the cab of the type of crane which was driven by Mr MacKinnon, to alert operators that the jib is not in the stowed position before the vehicle is moved.