Buzzard death near Tomatin sparks investigation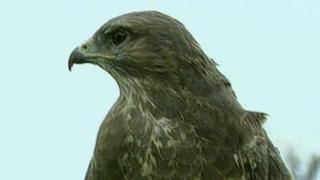 Wildlife crime officers have begun an investigation after a dead buzzard was found near the village of Tomatin in the Highlands.
The bird of prey was discovered by a member of the public near the Monadhliath mountains, south of Inverness.
Police said an examination of the buzzard suggested it had not died of natural causes.
Officers have asked anyone who may have information to contact them.
The remains of the bird were found on 9 December.
A spokesman for Police Scotland said: "Anyone who lives nearby or may have frequented the area during outdoor pursuits activities and may have information regarding this crime, or any offences against birds of prey, is asked to contact police on 101 or Crimestoppers on 0800 555 111."
A golden eagle was found dead in the hills above Glen Lethnot in Angus last month.
Tests on the ringed bird recovered from a moor revealed it had been poisoned.
RSPB Scotland was alerted to the eagle's death when its satellite tracking signal remained static for several days.
The conservation charity said that, in the past five-and-a-half years, another four eagles, a red kite and seven buzzards have been shot, poisoned or trapped on sporting estates in the Angus glens.