Loo of the Year honours for remote Sutherland toilet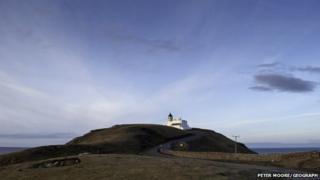 A public toilet dubbed the remotest on the UK mainland has won two accolades at the annual Loo of the Year Awards.
The facilities at Stoer Head Lighthouse in Sutherland were opened in August and paid for by money raised following a public appeal.
The site has been named best Scottish eco-friendly and best car park toilet.
The lighthouse gets up to 10,000 visitors a year but the nearest toilet was about six miles (9km) away along a single track road at Clachtoll.
Leigh Sedgley, who runs The Living the Dream tea van at the lighthouse, said "wild toileting" near Stoer Head had been an unpleasant and unhygienic problem in the area.
A public appeal was launched to pay for a toilet and it raised £1,000.
Assynt Community Association, Highlands and Islands Enterprise and Highland Council also contributed funds to the dry composting loo.
People pay £1 for use of the toilet and profits raised go towards community projects.
Stoer Head Lighthouse was built on Sutherland's north west coast in 1870.
Its keepers and their families kept cattle and pigs at the site so they could be self sufficient.
The lighthouse became automated in 1978.