Vintage 'selfies' uncovered in Scottish archives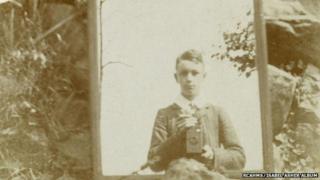 'Selfies' taken in Scotland in the 1900s and 1950s have been uncovered in historic archives.
One shows a boy using a mirror to photograph himself in 1907 at Corsee in Nairn.
The other, which also uses mirrors to capture the image, was taken at Castleroy House in Broughty Ferry.
The images are in the collections of the Royal Commission on the Ancient and Historical Monuments of Scotland (RCAHMS).
Selfie was named as word of the year by Oxford Dictionaries last month.
The word has evolved from a niche social media tag into a mainstream term for a self-portrait photograph, the editors said.
Research suggested its frequency in the English language had increased by 17,000% in the last year, they added.
Selfie is defined by Oxford Dictionaries as "a photograph that one has taken of oneself, typically with a smartphone or webcam and uploaded to a social media website".
The 1907 photograph is from the Isabel Asher Album, which forms part of RCAHMS collection.
The organisation's communications manager, James Crawford, said: "We think of the selfie craze as a particularly modern phenomenon - driven by social media.
"But by looking through historical archives, from portrait paintings to early photography, it's clear that people have always been fascinated with recording, and sharing, images of themselves."
He added: "The technology may have changed, but the selfie has been around - in one form or another - for a very long time."
The commission holds more than five million drawings, photographs, negatives and manuscripts relating to Scotland's archaeology, buildings and maritime heritage.
Through the National Collection of Aerial Photography, it also has an archive of more than 20 million aerial images of locations around the world.
A selfie at Nelson Mandela's memorial service this week prompted a mixed reaction in the media.
Prime Minister David Cameron, US president Barack Obama and Danish leader Helle Thorning-Schmidt huddled together for the snap.
Some have said the taking of the image was disrespectful, although others said it was in keeping in with the celebratory mood at Tuesday's event in Soweto, South Africa.
Earlier this month, the makers of Star Wars: Episode VII launched an official Instagram account by posting a selfie of Darth Vader.
A tweet told followers to subscribe to the Instagram page, saying: "It is useless to resist."
Pope Francis posed for a selfie with a group of young people in August.