Fewer dotterel on Scotland's mountains, scientists say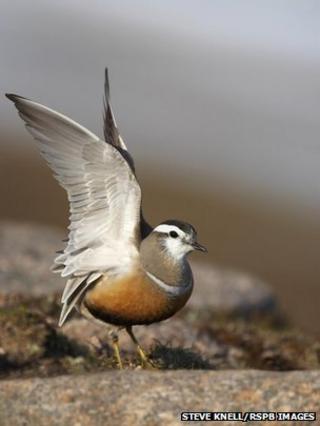 Numbers of a rare migratory bird that in the UK only breeds at the top of Scotland's highest mountains continue to fall, according to scientists.
Dotterel have been in decline since the first State of the UK's Birds survey in 1987-88.
The latest report suggests that the estimated number of breeding male birds has dropped from 630 in 1999 to 423 in 2011. In 1987-88 there were 981.
Scottish Natural Heritage (SNH) and RSPB Scotland have voiced concerns.
The survey also suggested there were fewer farmland birds such as grey partridge, lapwing and corn bunting.
Declines in waders have also continued.
However, red kites, goldfinch and blackcap were said to be doing well, according to the report.
Scientists from the RSPB, SNH and Natural Research carried out the survey.
Mark Eaton of the RSPB, said dotterel were a good indicator on the health of mountain habitats.
He said: "To see such a significant drop in their numbers over the past three decades is deeply concerning.
"We are now embarking on research in partnership with Aberdeen University and SNH to examine possible causes of these declines, from climate change to grazing impacts and the effects of atmospheric pollution on sensitive mountain-top vegetation."
Eileen Stuart, SNH head of policy and advice, described declining numbers of dotterel as "very worrying".
Colette Hall, a species monitoring officer with the Wildfowl and Wetlands Trust, added: "There's worrying evidence here that the breeding ranges of many of our waders are drastically shrinking.
"We're losing much-loved species like snipe or lapwing completely from parts of lowland Britain.
"A main cause seems to be loss of habitat due to wetlands being drained for farming or development. We need to protect and restore these habitats in order for species like these - and all wetland wildlife - to survive and prosper."
The State of the UK's Birds 2013 report is produced by a coalition of three NGOs - RSPB, British Trust for Ornithology (BTO), and the Wildfowl & Wetlands Trust - and the UK government's statutory nature conservation.