New theatre celebrates life of Gaelic song collector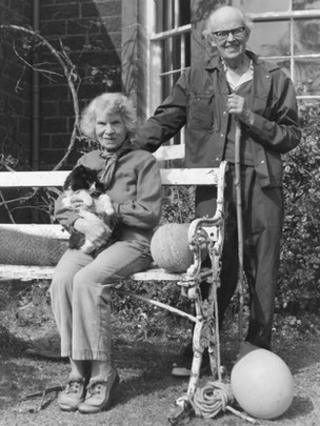 The life of a woman who gathered one of Scotland's most important collections of Gaelic songs is being celebrated in a new piece of music-theatre.
US-born Margaret Fay Shaw, whose husband was Gaelic scholar John Lorne Campbell, dedicated a large part of her life to the music.
A Little Bird Blown Off Course by Fiona J Mackenzie will preview at St Peter's Hall, South Uist, on Wednesday.
The production will then be taken on a tour of the Highlands.
The final performance will be on the Isle of Canna, where Shaw and Campbell spent a large part of their lives.
A Little Bird Blown Off Course is being presented by the National Theatre of Scotland and Blas Festival in partnership with the National Trust for Scotland.
Originally from Glenshaw, Pennsylvania, Shaw moved to Scotland as a teenager and spent a year at school in Helensburgh.
She later studied music in Paris and New York before returning to Scotland, eventually settling on South Uist where she met, and later married, Campbell.
The new production draws on Shaw's autobiography, letters, personal photography and uses previously unseen film footage of island life.
Magda Sagarzazzu, an archivist on Canna, helped Mackenzie to access the material.
A singer-songwriter, Mackenzie was 2004's BBC Scotland Traditional Music Personality of the Year and won the Burnsong International Songwriting Competition in 2009.
She said: "Margaret's book Folksongs and Folklore of South Uist was my first contact with Gaelic song many years ago and has remained my 'bible' ever since.
"It is very heartening to see major national bodies such as the National Theatre of Scotland and the National Trust for Scotland working together with the Blas Festival, to produce a piece of work which will hopefully increase awareness and develop new audiences for Gaelic cultural events."