Senior police officer pays tribute to Barbara Anderson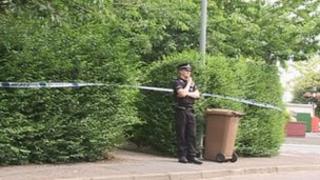 A senior officer has paid tribute to a woman who died following a fire at her home in Inverness.
Barbara Anderson, 51, had worked for Northern Constabulary, which now forms part of Police Scotland.
Emergency services were called to her house in Hilton at about 07:46 on Tuesday. Three neighbouring properties were evacuated as a precaution.
Ch Supt Julian Innes said Ms Anderson had been an "extremely committed, loyal member of staff".
She had worked as a courts and warrants assistant from 1979 until 2011 when she took early retirement.
Ch Supt Innes said: "Barbara, or 'Babs' as she was affectionately known, worked with us for many years as an extremely committed and loyal member of staff.
"Over the years she was with us she enjoyed the respect, friendship and admiration of a great number of colleagues both past and present.
"Barbara had to overcome a number of challenges in life but she did so with an optimism and cheerfulness that was an inspiration to us all."
He added: "Her sudden and tragic passing has been a deeply saddening experience for all who had the privilege of knowing her and she will be sorely missed."
An investigation has been launched into the cause of the fire. Police said it did not appear to be suspicious.