Barbie gull: Pink birds and Scotland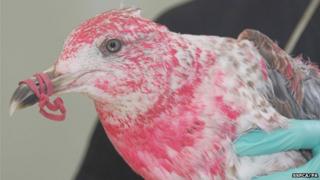 The Scottish SPCA has rescued a seagull found covered in a "Barbie pink" paint or dye, but Blush is not Scotland's first brush with pink birds.
Pranksters are suspected in the case of Blush, the young herring gull found in Mallaig with an unusual colour of plumage.
Animal welfare officers based in Alloa are now caring for the chick who should eventually grow out the painted feathers after unsuccessful attempts to clean it off.
Pink gulls have a Scottish literary heritage. For West Hartlepool-born writer Compton Mackenzie, who died in Edinburgh in 1972 and is buried on Barra, they were key to the plot of his book Rockets Galore.
The story was a sequel to his 1947 novel Whisky Galore which was loosely based on the real-life story of the SS Politician, which sank off the coast Western Isles loaded with hundreds of cases of whisky.
Rockets Galore saw the writer revisit island life.
Set after the war on the fictional island of Todday, it sees its residents resist government efforts to move them from their homes to make way for a military rocket range.
The islanders stir up a public outcry to the plans by dying seagulls pink and presenting them as a new and rare species of bird.
Like Whisky Galore before it, Rockets Galore was adopted for film and had a cast that included actors Gordon Jackson, Catherine Lacey and Ronnie Corbett.
Mallaig's pink gull is being treated as an act of cruelty that could have led to its death.
Colin Seddon, of the SSPCA, said: "Although Blush's appearance may have raised a few laughs, we are very concerned that someone has done this to a defenceless creature.
"It's lucky that the dye had not gone into its eyes as this could have blinded him or at the least caused pain and discomfort."
He added: "If Blush had been left outdoors on his own in this state then he would have been continuously attacked by other birds."