Carrbridge man completes round UK challenge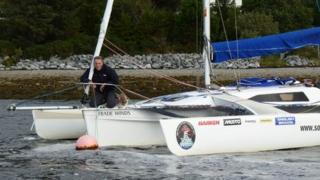 A man has completed a challenge to sail and run around the coastline of the UK and Ireland for charity.
Alan Rankin, 55, from Carrbridge in the Highlands, set off from Ullapool in June on his solo venture.
His Trade Winds Solo Round Britain Challenge took 45 days and involved taking part in 10km runs at 10 ports.
The trip has raised funds for Parkinson's UK, Cancer Research UK, MS Society, British Heart Foundation and Ocean Youth Trust Scotland.
It was Alan's second major challenge in the past few years.
In 2006 he successfully circumnavigated Scotland by boat and bike.
Starting at Kirkcudbright in the Solway Firth, he sailed round St Kilda, Shetland, and landed at Blyth on the north east coast of England before cycling 165 miles back to Kirkcudbright.