Drug linked to deaths available in Inverness, say police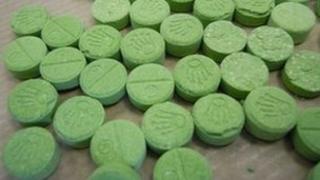 Police believe a drug that has been linked to the deaths of several people could be available in Inverness.
NHS Highland has joined Police Scotland in warning people against taking the green tablets stamped with Rolex Crown logos.
They contain potentially harmful chemicals and have generally been sold as an ecstasy tablet, police said.
Similar tablets have been linked to the deaths of seven people in the west of Scotland.
They have also been linked to deaths in Northern Ireland.
Acting Det Ch Insp Brian Mackay said: "There have been a number of public warnings issued across Scotland in relation to this subject and I would like to reiterate those messages here in Inverness, where we know these illegal substances are in circulation.
"The exact contents of the pills are unknown but they could contain dangerous chemicals and users need to be aware of the dangers and understand the devastating effect they can have."