Morgan Sindall wins River Ness flood defence contract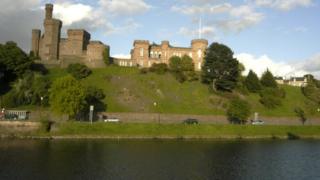 Highland Council has awarded an £8.5m contract for the first phase of work to build flood defences on the River Ness where it runs through Inverness.
Morgan Sindall will start work on the city centre side of the river in August and Huntly Street side in October.
The council said the timings of the work aimed to avoid causing disruption at Christmas and a second phase of resurfacing on the Kessock Bridge.
The road works on the bridge on the A9 are due to start next February.
Designed to protect 800 homes and 200 business premises, the flood walls form part of a wider scheme of defences for the city.
A second phase of flood defence construction, due to go out to tender later this year, will continue the protection from Friars Bridge to the river mouth.
The overall scheme is due for completion by the spring of 2015.
Public exhibition
Morgan Sindall will present its detailed programme of works at a public exhibition being held at Inverness Town House on 26 July, from midday and 19:00.
The exhibition will also include displays for phase two.
Matt Smith, principal engineer in the council's flood team, said: "Anyone with an interest in the flood scheme is welcome to drop in to the exhibition, but we are particularly keen for any businesses, organisations or individuals who feel they may be affected by this next phase of works to come along.
"This is their chance to meet the key personnel involved in taking the project forward and raise any issues they may have with the works."
A £16m construction project, started in 2010 to protect 600 homes at risk of flooding on the south side of Inverness, was completed in January.
The Inverness South West Flood Relief Scheme has been designed to divert flood water away from Culduthel, Lochardil, Drummond and Hilton.