French Consulate shells out for Barra snails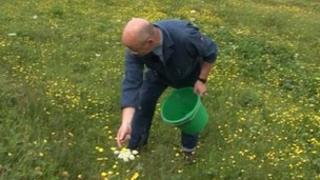 Staff marking Bastille Day at the French Consulate in Edinburgh are to dine on snails collected from a Scottish island's coastal meadows.
Gerard MacDonald gathers the snails from the machair on Barra in the Western Isles.
He supplies French restaurants and received an order from consulate employees ahead of the French national holiday.
The delicacy takes about four days to prepare before they can be eaten.
Mr MacDonald said the snails are regarded as a pest by gardeners on the island.
He added: "There is a resource there and if you can use it, and use it carefully, then there is something to be made over time from it."