Liam Aitchison murder: Western Isles killers jailed for life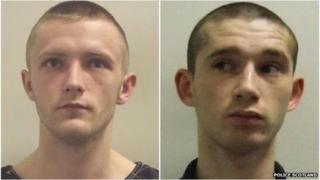 Two men have been jailed for life for the first murder on the Western Isles in more than 40 years.
Liam Aitchison, 16, from South Uist, was beaten, stabbed and stripped of clothing during the attack on 23 November 2011.
His body was found in a derelict property in Steinish on Lewis.
Johnathan MacKinnon and Stefan Millar, both 22, have each been ordered to spend a minimum of 18 years in prison before they can apply for parole.
The judge, Lord Kinclaven, said the men had robbed Liam of his life and devastated his family.
Lord Kinclaven said Liam's family had made statements about the impact of the crime on them, showing their "grief, stress and anguish".
The judge said that nothing the court could do or say could compensate.
Liam's father Norrie Aitchison and his wife, Claire, arrived at the High Court in Edinburgh wearing jackets bearing the teenager's photograph and the slogan: "Shine on our Crazy Diamond. RIP Liam."
Outside the court, Mrs Aitchison said: "We are happy that justice has been done and that these two brutal murderers will spend a long time in prison.
"We believe, however, that they are getting off lightly - life imprisonment should mean life.
"They killed an innocent boy in cold blood but, by the time they leave jail, they will still be young enough to make plans for the rest of their lives."
Mrs Aitchison also thanked people of the Western Isles for the "incredible support" which had helped the family during their ordeal.
MacKinnon and Millar denied murder, but were found guilty by a jury at the High Court in Glasgow.
Liam had socialised with Millar and MacKinnon after he started living in Stornoway on Lewis. The three had worked in the fishing industry.
The court heard that on 23 November, Millar and MacKinnon - who were from Lewis, but moved to Elgin and Inverness while on bail - had fought with Liam.
There were claims that Liam had stolen a bottle of aftershave from MacKinnon.
Almost two weeks after he was last seen alive by his girlfriend and other friends, Liam's body was found in a derelict RAF building at Steinish, near Stornoway Airport.
He had been struck on the head and body with a knife and bottle, and his head had been stamped on.
The court heard that Liam had been stabbed 20 times.
Liam Murphy, procurator fiscal for the north of Scotland, said the murder had caused "shock and concern" on Lewis.
He added: "Thankfully, murders in this part of the country are very rare.
"I hope that these murder convictions reassure those communities that when we do have such crimes, justice will be done."
The previous murder on the Western Isles had been the killing of 80-year-old Mary Mackenzie at her cottage at Brue, on Lewis, in 1968.
There was a murder inquiry in 2006 after Murdo MacDonald, 56, was beaten by three men in Stornoway, on Lewis, and later died from his injuries.
However, the charges against Mr MacDonald's attackers were later reduced to serious assault.