Highland Council plans to end musical instrument fees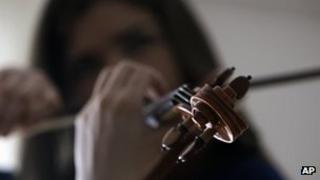 Highland Council has proposed scrapping fees for S4 to S6 pupils who are learning to play a musical instrument and also studying an SQA music course.
The local authority charges about 300 pupils £252-a-year for instrumental instruction. Some pupils are exempt from paying the fees.
The plan to end the payments follows a meeting between the council and a Scottish government working group.
It has been reviewing the charging of school pupils for instrumental tuition.
A meeting of the full council on Thursday will be asked to approve scrapping the charges.
If given the go-ahead, the fees will cease in August.
Highland Council was among local authorities criticised last year for charging instrumental music tuition fees.
Teaching union the EIS accused Scottish councils of making "profits" and then using the money to "shore up" budgets.