Arrest warrant issued for former Rangers owner Craig Whyte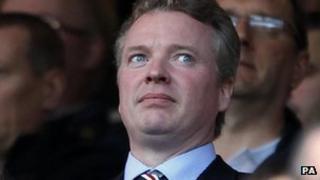 A warrant has been issued for the arrest of former Rangers owner Craig Whyte after he failed to appear as a witness at Inverness Sheriff Court.
He was due to appear at the trial of his former housekeepers Terence Horan and Jane Hagan who are accused of taking items from his Highland castle.
The court heard that Mr Whyte was in France.
It also heard that it was his understanding that he was not required to turn up at the court.
Sheriff Margaret Neilson granted the warrant for Mr Whyte's arrest.
A new intermediate diet was fixed for 13 August and trial rescheduled for 12 September.
Estranged wife
Mr Horan, 53, and Ms Hagan, 50, are accused to taking items from Mr Whyte's home at Castle Grant near Grantown-on-Spey.
Mr Whyte had been personally served with a witness citation last month after the Crown said that difficulties in tracking him down had been resolved.
Fiscal depute Kelly Mitchell told Sheriff Neilson that all her witnesses but one - Mr Whyte - had appeared, including his estranged wife, Kim.
It then emerged that Mrs Whyte had telephoned her husband and he told her he was in France.
Ms Mitchell then spoke to Mr Whyte who claimed he had been countermanded, meaning he was no longer needed as a witness, and had received a letter confirming this.
Ms Mitchell told the sheriff this was incorrect, explaining that Mr Whyte had been countermanded for an earlier trial date.
The fiscal depute said Mr Whyte had been cited by letter and in person six weeks ago to appear on Monday.
She said: "Given that we have an unfinished trial today, it is unlikely this trial will commence and I am seeking an adjournment to another date due to lack of court time.
"However, I am still seeking a warrant for Mr Whyte to prevent this from happening again. He knew he was due in court today."
Travel plans
Defence lawyers Willie Young and Eilidh Macdonald said the Crown's case stood or fell on Mr Whyte's evidence and should be deserted.
Mr Young said: "It was he who made the complaint to the police.
"He is well aware of court procedure and the importance of being a witness would be apparent to him.
"He appears to be in France and made no travel plans to come here. In the interests of fairness, the case should be deserted. Adjourning it will result in further inconvenience and expense."
Sheriff Neilson granted a Crown motion seeking an adjournment because of the lack of an essential Crown witness.
She also granted the warrant for Mr Whyte's arrest.