Mirror, cygnet, manoeuvre as swans hold up traffic on Kessock Bridge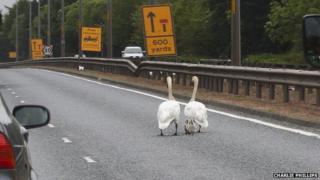 Two adults swans and their four young cygnets caused a five-mile tailback after disrupting traffic on the Kessock Bridge at Inverness.
The birds wandered along the outside lane of the southbound carriageway of the A9.
Their appearance on the crossing held up traffic for at least 20 minutes.
Charlie Phillips, who photographed the scene, said workers from Alba Traffic Management were "great" in making sure the swans were not harmed.
The Kessock Bridge's northbound carriageway is the focus of major road works.
The work to upgrade the bridge started in February and is not scheduled to finish until later in the summer.