Liam Aitchison murder: Stefan Millar denies killing teen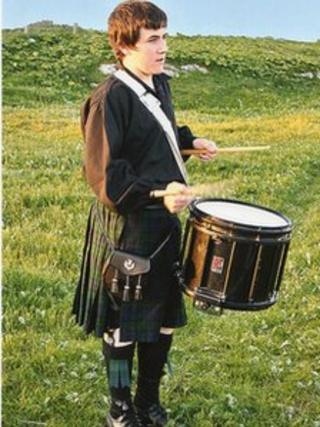 A man accused of murdering Liam Aitchison did not "lay a finger in anger" on the teenager, the High Court in Glasgow has heard.
Stefan Millar, 22, of Inverness, was giving evidence in his own defence.
He and another man, Johnathan MacKinnon, 22, of Elgin, deny murdering the 16-year-old on the Western Isles in November 2011.
The body of the teenager from South Uist was found in a derelict property in Steinish on Lewis.
The court had earlier heard that no murder weapon was found during the large-scale investigation into Liam's death.
It is claimed the teenager was struck on the head and body with a knife and bottle as well having his head stamped on.
Mr Millar told the court how he had got to know Liam while they worked separately on fishing boats.
They soon started socialising together and on 22 November 2011 they went to Mr MacKinnon's home in Stornoway on Lewis.
Mr Millar's QC Frances McMenamin asked: "What was the atmosphere like in the room?"
He replied: "Happy - having fun."
The court heard the trio left the house in the early hours and Mr Millar recalled Liam "messing about", including sitting in puddles.
Mr Millar said he then remembered a bottle of aftershave falling out of Liam's pocket before Mr MacKinnon allegedly punched the teenager.
Mr Millar denied getting involved in the altercation.
Ms McMenamin asked: "Did you ever lay a finger in anger on Liam Aitchison?"
He replied: "No."
Mr Millar claimed they later parted company with Liam. Mr Millar said he believed the teenager was going to a friend's house.
He denied there was any "fall out" before they went their separate ways.
Ms McMenamin asked: "Did you murder Liam Aitchison?" Mr Millar said: "No."
The QC asked: "Did you play any part in his murder?" Mr Millar replied: "Not at all."
The court previously heard claims that Mr Millar "bragged" about being involved in the killing to a cell-mate in Inverness Prison.
But Mr Millar denied that he said such a thing.
'Pretty devastated'
He was also asked about the property where Liam's partially-clothed remains were found.
Ms McMenamin: "Your position is that you have never been in the house?" Mr Millar said: "Never in my life."
Mr Millar later claimed the first he learned about the teenager's death was the day the body was discovered.
He said he was out at sea when the skipper of his fishing boat told him.
Mr Millar was eventually detained for the murder and questioned by police.
The QC asked: "Were you worried about your situation?"
The accused: "No. There was no reason to worry because I did not do anything."
He added that after being charged with the murder he recalled being "pretty devastated".
The trial, before Judge Lord Kinclaven, continues.