Highland Council plans annual school flu vaccine pilot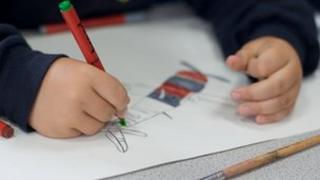 Highland Council plans to pilot an annual flu vaccination for schoolchildren before rolling it out for all P1 to S5 pupils.
The local authority does not currently offer any regular vaccinations in its 186 primary schools.
Highland, like other councils, has been advised by the UK joint committee on vaccination and immunisation to make the flu protection available.
Young children could be involved in the pilot that would involve 3,200 doses.
The vaccine would be delivered via a nasal spray with two doses given to P1-P5 children and one to P6-S5 pupils.
Highland Council officials said the pilot would guide a three-year phased introduction of the vaccination to its other schools.
Eventually the spray would be made available at all 186 primary and 29 secondary schools. There are more than 28,600 children in classes P1 to S5.
Cold storage
In a report to councillors, council officers said there were "a number of issues" that would need to be addressed in the delivery of the flu vaccine.
These included how to keep it in cold storage on long journeys to remoter parts of the region from the main vaccine store at Raigmore Hospital in Inverness.
Other challenges were making sure safe and clean spaces were available in schools for vaccinations to take place, and making sure young children took their doses.
Highland Council does offer vaccinations and immunisations to secondary school pupils.
These are HPV to S2 girls, diphtheria, tetanus and polio boosters to S3 girls and boys and also measles, mumps and rubella to S3 pupils who have not had it previously.
As well as the annual flu nasal spray, the joint committee on vaccination and immunisation has recommended that S3 girls and boys also be vaccinated against meningococcal C.
Highland Council's adult and children's service committee will consider the report next week.