SSE invests £200m in 33-turbine Dumnaglass wind farm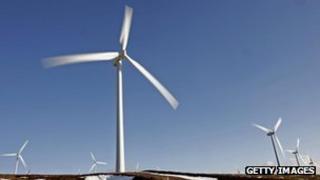 Energy giant SSE has acquired a wind farm project which was opposed by conservationists.
Developer RES secured planning consent from the Scottish government in 2010 for the 33-turbine Dunmaglass scheme.
Ornithologist Roy Dennis and biologist Dr David Bellamy opposed the project in the Monadhliath hills, about 20 miles (32km) south of Inverness.
SSE has invested £200m in the project. It should be built by late 2013 and operational by early 2016.
When it was approved, the government said the farm could generate electricity for up to 46,000 homes.
SSE said tests had shown that the scheme would benefit from "exceptional" wind conditions.
'Excellent resource'
Jim Smith, managing director of renewables at SSE, said: "We have said that we will pursue both acquisitions and disposals in order to optimise our wind farm portfolio in the UK, and this acquisition of Dunmaglass wind farm is completely in line with that objective.
"Dunmaglass is a well-designed project which benefits from an excellent wind resource compared to typical onshore sites.
"The construction timetable for the project fits well with our existing development portfolio and will enable us to optimise the use of existing resources and contracts."
RES started investigating the potential of the location in 2000 and had planned for 36 turbines.
In 2005, Dr Bellamy said the scheme on the Dunmaglass Estate would "sell Scotland's heritage for a mess of wattage".
Mr Dennis, who has been involved in birds of prey reintroduction efforts, warned there was a risk of golden eagles colliding with the turbine towers.
The Cairngorms National Park Authority, John Muir Trust and Mountaineering Council of Scotland had also opposed the scheme.
Announcing its approval in 2010, the Scottish government said the construction phase of the development would create work for about 55 people.
Jim Mather, who was energy minister at the time, said it also marked a further step towards greater use of "clean, green electricity" in Scotland.