Kilbeg development on Skye secures £1.9m funding boost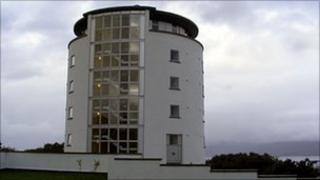 A project to create business space at a major development on Skye could support up to 80 jobs, the Scottish government has said.
The National Centre for Gaelic Language and Culture, Sabhal Mòr Ostaig, is leading the scheme to build a new campus and homes on nearby land.
The government has given a £1.9m funding package towards the cost of creating the business facilities.
Called Kilbeg, the development could cost £40m in total to construct.
Deputy First Minister Nicola Sturgeon announced the £1.9m funding package.
The government said building the business units would create work for up to 60 construction workers, and there would be about 20 full-time posts in the units once they were completed.
Kilbeg had been a joint venture between college Sabhal Mòr Ostaig (SMO) and the Clan Donald Lands Trust.
Since securing planning consent, the trust has decided to sell the bulk of the land involved to SMO, which still wants to push ahead with the project.
The proposal includes constructing 93 homes.
The 40-acre (16 ha) site is on a 20,000-acre (8,093 ha) estate in Sleat.
Kilbeg would include a number of environmental measures, such as rain water harvesting and networks of paths and cycle ways.