Coastguard volunteer tells of finding body of Liam Aitchison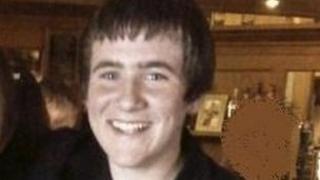 A coastguard volunteer has told the High Court in Glasgow of finding the partially-clothed body of teenager Liam Aitchison in a derelict building.
Robert MacLean was involved in a search for the 16-year-old after he was reported missing, when he made the discovery in Steinish on Lewis.
Mr MacLean said the scene he came across was distressing.
Johnathan MacKinnon, of Elgin, and Stefan Millar, of Inverness, deny killing Liam in November 2011.
It is claimed Liam, from South Uist, was struck on the head and body with a knife and bottle as well having his head stamped on.
Buildings checked
Mr MacLean told the court how he and a number of other volunteers took part in a search for the then missing teenager on 29 November 2011.
This involved a number of buildings being checked. Mr MacLean said it was thought Mr Aitchison would not be found as it was believed he may have simply left the island.
However, the witness said a run-down property in Steinish - described as a "mess" - was investigated as part of the search.
Mr MacLean followed a colleague in after climbing through a broken door panel.
Prosecutor Iain McSporran asked: "Can you tell us what you observed?"
Mr MacLean: "A boy's body lying on the floor."
Mr McSporran asked: "He certainly was not fully clothed?" Mr Maclean replied: "No."
'Scene of violence'
The teenager's remains were found in a room near to a window. He was wearing only a T-shirt, underpants and socks.
Mr McSporran added: "This was obviously a distressing find?"
The witness agreed it was. The court heard there appeared to be blood staining on a carpet.
Crime scene examiner Jody Busby was later called to attend the property.
She told the jury that four human teeth were also discovered.
Asked by Mr McSporran if they were "associated with this scene of violence", she replied: "Yes."
Ms Busby was also asked how this compared with other incidents she had been called to. She said: "In my eight-year career, it is one of the most horrendous scenes I have been to."
The trial, before Judge Lord Kinclaven, continues.