New legislation on decrofting land put to parliament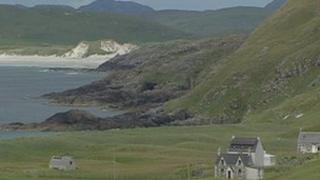 New legislation to amend crofting law has been introduced to the Scottish Parliament.
The Scottish government said the legislation would tackle specific difficulties owner-occupier crofters have been facing.
Decrofted land is that which no longer falls under crofting rules and the house on it does not have to be tied to the croft land.
There has been confusion over how the decrofting rules should work.
In February, the Crofting Commission suspended all decrofting applications on owner-occupied crofts following legal advice.
Environment Minister Paul Wheelhouse said it was hoped the new legislation would end confusion over decrofting.
He said: "It came to light recently that there was an issue with the Crofting Reform (Scotland) Act 2010 and the Scottish government, along with the Crofting Commission, has been working extremely hard to resolve these issues as quickly as possible.
"There are, clearly, different legal opinions on this issue, and this bill will provide legal certainty for all involved in the process on the competency of owner-occupier crofter applications to the commission to decroft their land."
"I hope by taking these steps, crofters, lenders and others are reassured that the necessary action is being taken."
MSPs will be asked to consider the new legislation.