Body believed to be isles businesswoman Ann MacCallum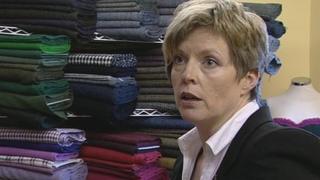 A body found on a Western Isles beach is understood to be that of island businesswoman Ann MacCallum.
Three years ago, she was the first woman to be appointed manager of a Harris Tweed mill.
The clothes designer had previously been a manager of a Woolworths store in Stornoway.
The woman's body was discovered on a beach near the village of Swordale on Lewis by a dog walker at about 08:10 on Thursday.
Police, who have still to identify the body, said they were making inquiries.
In March 2010, Ms MacCallum became the first woman in the history of the Harris Tweed industry to be appointed the manager of a mill.
She was general manager of the Carloway Mill on Lewis before later leaving to take up another business opportunity.
Her previous work in the Harris Tweed industry included creating a white Harris Tweed wedding dress and coat for Celtic singer Alyth McCormack.