Liam Aitchison murder accused 'wanted to stab someone'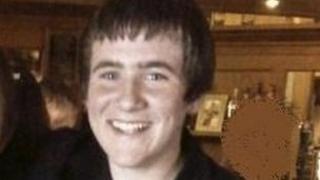 A man accused of murdering Western Isles teenager Liam Aitchison spoke about wanting to stab someone, a trial at the High Court in Glasgow has heard.
Johnathan MacKinnon, 22, of Elgin, allegedly made the comment amid claims that he also stole a meat cleaver from a fishing boat that he worked on.
Gavin Wright made the allegations in a statement to police.
Mr MacKinnon and Stefan Millar, 22, of Inverness, deny killing Liam on Lewis in November 2011.
It is claimed the 16-year-old from South Uist was struck on the head and body with a knife and bottle as well having his head stamped on.
Mr Wright, 20, had worked with the men on the fishing boat.
The court heard that he was interviewed by police during the investigation into Liam's death.
It was claimed that Mr MacKinnon had taken a meat cleaver from the boat he was working on and had gone to Mr Wright's house with it in his pocket.
'Jokey conversation'
Mr Wright was said to have told officers: "He had this meat cleaver and he had previously said to me and Stefan - while working on the boat - that he would love to stab someone."
Mr MacKinnon was also said to have claimed that stabbing pig skin - rather than a fish - would be closer to knifing a human.
Iain Paterson, who is representing Mr MacKinnon, later asked Mr Wright if the comment about the pig skin was "a jokey conversation".
The witness replied: "Could have been."
The court also heard how Mr MacKinnon once attended hospital in Stornoway after injuring his hand.
Medical worker Maureen Stewart - who spoke to him during the visit - told the jury that "out of the blue" Mr MacKinnon asked: "Do you think I am mentally disturbed?"
Prosecutor Iain McSporran asked the witness: "Any context around that question?"
Miss Stewart said: "No."
Miss Stewart later accepted that Mr MacKinnon had appeared "calm and polite" and that there had been no difficulties with him.
The trial, before judge Lord Kinclaven, continues.