Arctic Convoys campaign veteran Jock Dempster dies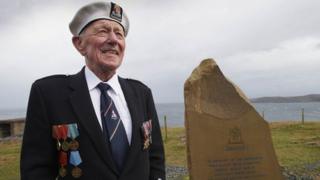 A World War II veteran who fought for decades to win official recognition for the Arctic Convoys has died.
Jock Dempster, who was 85, received the Arctic Star during a ceremony at Downing Street in March.
He died just days before he had been due wear his medal at a public ceremony for the first time.
Mr Dempster was 16 in 1944 when he sailed in the convoys, battling extreme weather and German bombardment to help keep a supply line with Russia open.
Between 1941 and 1945, merchant ships left Loch Ewe in Wester Ross as well as the Clyde and ports in Iceland to deliver supplies, weapons and ammunition.
About 3,000 men died during the convoys and for decades Mr Dempster, from Dunbar in East Lothian, fought to win official recognition for their efforts.
His struggle ended in success when Prime Minister David Cameron presented the newly-created Arctic Star to a group of 40 veterans.
This week, Mr Dempster had been due to display his medal at a special commemoration at Loch Ewe.
However, he died on Sunday morning after suffering a stroke.