Power system forces rethink on Stornoway birthing pool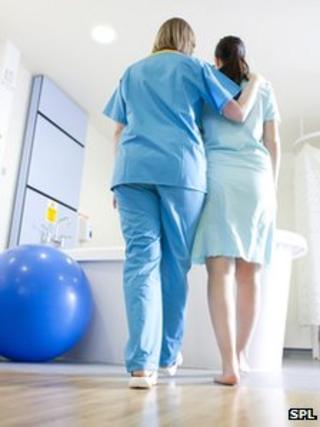 NHS Western Isles is trying to find a suitable location for a permanent birthing pool at its biggest hospital.
A possible location for the pool had to be ruled out because it was on a floor above Western Isles Hospital's main electrical system.
Staff were concerned a leak could lead to the hospital in Stornoway being put out of action for three weeks.
An online campaign has been calling on the health board to provide the facility for mothers-to-be.
The pools can be used for water births and also as a relief from labour pains before a baby is delivered in a hospital bed.
At the moment Western Isles Hospital offers a birthing pool as part of a home birth plan.
NHS Western Isles said it was "fully committed" to introducing a permanent pool at the hospital.
A spokeswoman said: "The most recent plan proposed the positioning of the pool in the maternity unit directly above the main electrical system for the hospital.
"The risk assessment carried out regarding the impact and severity of a failure or substantial leak from a pool unfortunately ruled that option out completely.
"Whilst the likelihood of a failure or substantial leak is low, the potential impact of such an incident would be disastrous and would mean that the only hospital on the island of Lewis could potentially be out of commission in its entirety for up to three weeks."
She said staff were looking at alternative options for where to site the pool.
Funding has been earmarked in the current financial year for its installation.
Messages have been posted on the social networking site Twitter urging NHS Western Isles to make a pool available at the hospital.
Long journey
NHS Western Isles has not been alone in facing calls for services for new mothers.
Last month, NHS Highland said it hoped to make scans for pregnant women available again at Fort William's Belford Hospital after a year's absence.
Women have had to travel 64.8 miles (104.3km) to Raigmore Hospital in Inverness for scans.
The health board said it lacked the staff to run the service in Lochaber but was working on a solution.
Dr Michael Foxley, joint chairman of the local NHS district partnership, said scans needed to resume at Belford.
He told BBC Alba that an early scan was important and provided an accurate predictive date for a baby's birth.
Dr Foxley added that Lochaber mothers-to-be should be spared the long journey to Inverness.