Work to revamp Kessock Bridge enters 'critical phase'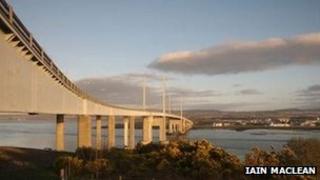 A project to upgrade the Kessock Bridge on the A9 has entered a "critical phase", Transport Scotland has said.
The agency said work to make the structure waterproof was sensitive to weather conditions.
It added that the completion of this part of the overall project would give a clearer indication of when the roadworks will be finished in June.
The project, which started in February, has already seen contractors having to work in frequent spells of high winds.
The bridge is being resurfaced and upgraded in a £13m programme of improvements that involves further roadworks from February and June next year.
State-of-the-art materials are being used so that major work will not be required again for another 30 years.
Opened in 1982, the bridge takes the A9 from Inverness across the Beauly Firth to the Black Isle.
A spokesman for Transport Scotland said: "Works have now entered a critical phase where waterproofing is being carried out and this is very much sensitive to weather conditions.
"Once this is completed, we will have a clear picture of an expected date for final completion and traffic management being lifted."
He added: "Transport Scotland fully expect Balfour Beatty to complete the works in advance of the main summer tourist season, avoiding further peak time traffic delays."