Murder accused 'left Liam Aitchison in ditch'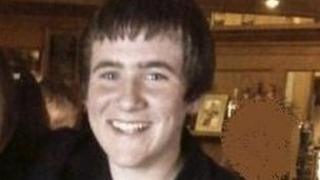 One of two men on trial accused of murdering Western Isles teenager Liam Aitchison left him in a ditch, the High Court in Glasgow has been told.
Liam's girlfriend Ellen McLennan told police Stefan Millar said he had left the 16-year-old because he had been "rolling about and being an idiot".
Another witness told the court Liam had been in a fight with the two accused.
Mr Millar, 22, of Inverness, and Johnathan MacKinnon, 22, of Elgin, deny killing Liam in November 2011.
They are accused of murdering the teenager from South Uist in Steinish, on Lewis.
'Ditch business'
Giving evidence at the first day of the trial, Miss McLennan, 17, told the court that Mr Aitchison had been her boyfriend for about a month. He had been staying at her sister's house in Stornoway on Lewis.
The court heard she reported her boyfriend missing five days after she last saw him.
When asked why she had taken so long to report him missing, Miss McLennan said that he was expected to appear at Stornoway Sheriff Court and she thought that he might have been in detention.
Miss McLennan was asked if anyone mentioned Liam ending up in a ditch and if there was any discussion with Mr Millar about this. She replied: "I can't remember."
She was taken back to a police statement she gave in December 2011 and confirmed she would have done her best to tell the truth.
The court heard she told officers at the time: "I was speaking to Stefan about it. I asked Stefan why he left Liam in a ditch."
Prosecutor Iain McSporran asked: "From what you have already told us had you heard about this ditch business from someone else?"
The witness replied: "Yes."
Mr McSporran said: "In your statement it goes on to say 'Stefan said 'Because he was rolling about and being an idiot'.' Do you remember that?"
Miss McLennan replied: "Yes."
'Throwing punches'
However, under cross examination by Frances McMenamin QC, Miss McLennan agreed that Liam was "rolling about the road".
Mrs McMenamin asked the witness if she asked Mr Millar "why did you leave Liam in a ditch" and she replied: "I think so".
The QC asked: "Would it be right in saying Stefan Millar's response was 'we never left Liam in a ditch he was rolling about the road?'"
Miss McLennan replied: "Yes."
Later witness Warren Mackay, 24, admitted telling police that Liam, Mr Millar and Mr Mackinnon had all been drinking and had a "scuffle".
In his police statement Mr Mackay claimed that Mr Millar told him that he and Mr Mackinnon and Liam were "throwing punches" and that Liam had fallen into a ditch.
Mr Mackay told police that Mr Millar said he and Mr Mackinnon watched Liam get out of the ditch and walk off.
Previously in evidence Mr Mackay had claimed that he could not remember the conversation with Millar. But he confirmed to prosecutor Iain McSporran that was what he told the police.
Ellen's sister, Peggy McLennan told the court Liam had stayed with her on a few occasions. She said that he had no possessions and few clothes.
She told the court that in the early hours of the 23 November, she returned home from a night out and he was not at her house.
The trial before judge Lord Kinclaven continues.