NHS Highland seeking solution to Lochaber scan shortage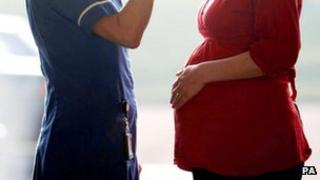 NHS Highland hopes to make scans for pregnant women available again at Fort William's Belford Hospital after a year's absence.
Women have had to travel 64.8 miles (104.3km) to Raigmore Hospital in Inverness for scans.
The health board said it lacked the staff to run the service in Lochaber but was working on a solution.
Dr Michael Foxley, joint chairman the local NHS district partnership, said scans needed to resume at Belford.
He told BBC Alba that an early scan was important and provided an accurate predictive date for a baby's birth.
Dr Foxley added that Lochaber mothers-to-be should be spared the long journey to Inverness.
He said: "Particularly with the poor public transport we have and with roads that can be frequently blocked either with tourists or road accidents."