Artist 'lectured' sheep on Highland Clearances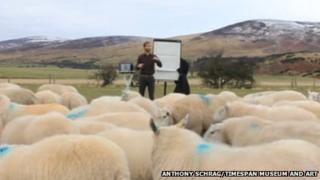 An artist has delivered a 45-minute lecture on the Highland Clearances to a flock of sheep to stimulate fresh debate on the historic events.
Anthony Schrag's lecture in a field on a farm in Sutherland was filmed so it could be viewed by people living in and near the Strath of Kildonan.
The strath was cleared of families 200 years ago to make way for large-scale sheep production.
Schrag has been researching the Kildonan clearances.
He is artist-in-residence at Timespan Museum in Helmsdale. The museum has been running several projects exploring what happened in the strath in 1813.
Schrag said his lecture looked at the clearances from the point of view of sheep.
He joked that one of the animals did appear to take an interest in what he had to say.
The artist has also helped to organise two shinty games as part of his wider project.
One will take place on Loth Beach on Saturday and recalls games that were played on the sand in the 1800s. A trophy made to mark a match played at the beach in 1829 will be on display.
The second shinty match - dubbed Locals versus Incomers - will be played at Helmsdale on 23 March.
Schrag hopes this game will further encourage fresh debate on the Kildonan clearances and a riot which saw families take a stand against landowners and the authorities.
Year of the Sheep
In 1813, about 100 people left the Strath of Kildonan.
Several of the families sailed to Hudson Bay, in north east Canada, where they were forced to build their own shelters to protect themselves against severe winter conditions.
The following spring, they set off on foot for the Red River Settlement around Lake Winnipeg in Canada where Scottish aristocrat, the Earl of Selkirk, had promised them land.
Many made the 100 mile (161km) journey on handmade snowshoes.
Sheep were targeted in 1792 - which became known as the Year of the Sheep - following clearances in Sutherland and Easter Ross.
Four hundred men from families that had been evicted, or were facing eviction, drove thousands of the animals from the hills.
By early August, they had rounded up 6,000 sheep and had reached Beauly, near Inverness, where they were intercepted by soldiers.
Some of the men were tried in court and one man received an order banishing him from Scotland for life.