Family hail 'courage' of Glencoe death fall walker Shaun Bowden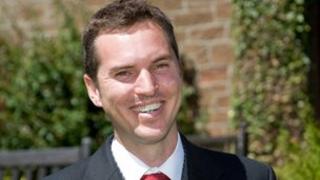 The family of an experienced hillwalker who died after falling on Bidean Nam Bian in Glencoe have hailed his "courage" in not putting his companions' lives in danger.
Shaun Bowden, of Ware, Hertfordshire, died on 8 March. His body was recovered by rescue teams the next day.
The 39-year-old's family said he tried to stop his fall using an ice axe.
However, he "instinctively" avoided grabbing his companions - which could have led to their deaths.
Mr Bowden had worked as a cardiac physiologist before changing his career several years ago to become an international sales and marketing executive at a bioscience company.
His family described him as an experienced hiker who had made frequent trips to the Scottish hills.
In their statement, they said: "Although he was doing what he loved, it was tragic that his death was the result of an accident on a walk that he had been on many times.
"It is a testament to his courage and skill that when he fell, he instinctively avoided grabbing his walking companions, which would surely have resulted in their deaths as well.
"Instead, he attempted to arrest his fall with his ice axe but the quality of the snow made this impossible."
The statement added: "He will be sadly missed by his wife, two children and the rest of his family and many, many friends.
"They would like to express their gratitude to the Glencoe Mountain Rescue Team for their courage during the search for Shaun and to the police for their kindness and professionalism."