Highland crews called on to tackle wild fires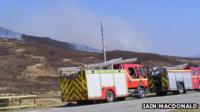 Firefighters have been tackling wild fires in Sutherland, Skye and the Western Isles while other parts of Scotland have been affected by snow.
Retained fire crews had to be called out on Monday after legitimate muir burning got out of control.
Muir burning is carried out by hill farmers and landowners to burn off long grasses and heather to encourage new grazing for sheep and grouse.
Fires in North Uist and Barra also had to be tackled.
Gordon Morrison, station manager in Inverness, urged landowners to have measures in place to keep muir burning under control.
He said: "We are there to save lives. If we are out on hills fighting uncontrolled fires we are leaving gaps in areas.
"If there is a domestic fire in properties that require us to save lives it may be that our response can be delayed."
Highlands and Islands Fire and Rescue Service was called on to tackle wild fires during a dry spell at about the same time last year.