'Latest technology' for new coastguard helicopters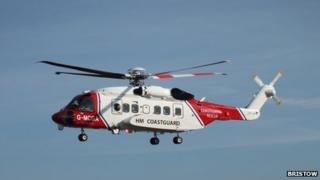 Helicopters to be used in coastguard duties from the summer will be equipped with the latest night vision goggle technology, operator Bristow has said.
The company was awarded a contract last year to provide search and rescue cover from Sumburgh in Shetland and Stornoway in the Western Isles.
It will run until the long-term future of search and rescue is secured.
Bristow said an element of the night vision kit had required an export agreement with the US State Department.
Two of the four S-92 helicopters to be used in the contract are at Inverness Airport as part of the training of crews for the coastguard work.
As well as the night vision capability, the helicopters will be fitted with long-range fuel tanks, high illumination lighting and forward-looking infrared (FLIR) and thermal imaging camera technology.
Bristow said the machines would be the first aircraft in Europe to have Trulink wireless for communications between the crew.
A wireless intercom system will also allow winch operators to communicate with the rest of the crew and with nearby vessels during rescues at sea.
The company also said a medical zone intercom system would allow for the cabin and cockpit to be split into isolated zones, meaning medical teams could work on a patient without the flight crew being distracted.
'Winter days'
Bristow's search and rescue commercial manager Simon Tye said: "Our new S-92 search and rescue aircraft are the first type in Europe to be certified for night vision goggle technology.
"The technology is essential when responding to night time incidents, particularly in northern Scotland where winter days are short and operations can extend into the hours of darkness."
The gap contract Bristow was awarded last year will see its crews formally begin coastguard work from Sumburgh on 1 June and Stornoway on 1 July this year.
The contract runs until 2017.
After 2017, military involvement in search and rescue will cease and a new civilian contract involving 10 bases across the UK will come into force.
Helicopter operators have been bidding to take over RAF, Royal Navy and coastguard duties long-term.