'Weird ice caves' on Creag Meagaidh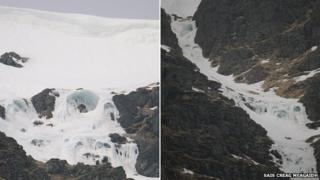 What have been described as "weird ice caves" have formed on a mountainside in the Highlands.
A forecaster with the Sportscotland Avalanche Information Service (SAIS) photographed the features on Creag Meagaidh.
The 1,128m (3,700ft) Munro lies between Inverness and Fort William and forms part of a national nature reserve.
Creag Meagaidh is one of five areas SAIS provides information about avalanche risk.
The mountain's avalanche forecaster said he had no idea how the "weird ice cave" features had formed on the north side of Coire Ardair below the summit of Poite Coire Ardair.
He said one of the "caves" appeared to have been "quite big".