Scottish and English marine energy parks join forces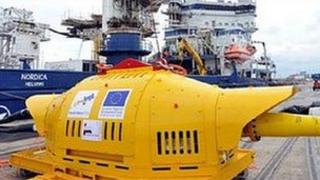 Marine energy parks in the north of Scotland and south west England are to work together to develop the UK's wave and tidal industry.
The agreement between the Pentland Firth and Orkney Waters and South West parks was described as a "milestone".
The two will still focus on attracting investment to their own geographical areas.
However, the agreement encourages the parks to exchange knowledge and best practice.
The Scottish government has also announced it will provide £4.1m to boost research at Orkney's European Marine Energy Centre.
Its marine parks agreement will be formally signed at Renewable UK Wave and Tidal Conference in London and witnessed by UK climate change minister Greg Baker and Scottish energy minister Fergus Ewing.
The two ministers have welcomed the agreement.
Development agency Highlands and Islands Enterprise described it as a "milestone agreement".
The Wave Hub, an electric "socket" for testing wave energy machines off the north Cornwall coast, has been unused since it was installed on the seabed in 2010, but managers say the first device is expected to be connected this year.
Wave Hub general manager Claire Gibson said: "This agreement sends a clear and positive message to the industry that the UK is serious about accelerating commercial development of the marine energy sector."