Drumnadrochit laughing ban man in corruption claim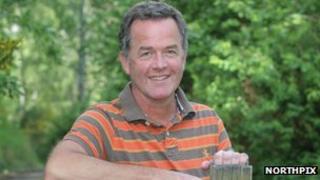 A man served with an Asbo banning him from laughing and clapping in front of his neighbours has claimed the five-year-old order is now illegal.
Stuart Hunt, 50, of Drumnadrochit, was given an interim anti-social behaviour order in 2007 following a dispute with his neighbours.
He has challenged the order at Inverness Sheriff Court.
Mr Hunt claims the Asbo is so old it could not be classed as temporary and has issued accusations of corruption.
He said that he had not formally appealed the order because he had lost confidence in the legal system as a result of unspecified corruption by a number of unnamed agencies and offices.
'In limbo'
Through his legal counsel, advocate Graham Robertson, Mr Hunt claimed he had reported his concerns about corruption to the police and three separate investigations were being carried out.
Mr Robertson told the court: "Although there is no cut off point for interim orders, I believe that five years is unreasonable.
"There has never been a review by the sheriff court system nor has it been made a full order or removed. He is in limbo."
Fiscal depute Iain Smith said Mr Hunt was attempting to appeal a civil matter in a criminal court while rejecting the avenues open to him to challenge it in civil proceedings.
Mr Smith said: "Whatever his beliefs are about corruption, it is irrelevant to this case.
"The routes are open to him to challenge the order and he has decided not to take them. The fact is the order is in place and it has not been reduced or challenged."
Sheriff David Sutherland decided to continue the legal debate until 26 March for the fiscal depute to ascertain if investigations into Mr Hunt's corruption claims had, or were, being carried out.
The sheriff also asked the clerk to look into the status of the interim Asbo and if a review had or was being planned.